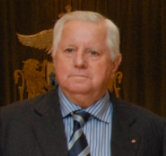 Message from Hermann Diez del Sel Korsatko
Dear Friends:
I like to present to you the REYMA-Reotix Code of Conduct, a reflection of our corporate culture and our way of doing things.
REYMA-Reotix Materiales Refractarios is a leading company in innovation and development, manufacture and provision of high quality refractory solutions. Our mission is the continuous research of materials and application technologies, always in constant contact with our customers.
Our corporate behaviour is characterized by the sense of responsibility, sustainable development and, above all, our solid ethical principles, oriented towards the welfare of our customers, suppliers, employees and strategic partners to the same extent.
The reputation of REYMA-Reotix is a key element in our business success. Our customers, suppliers and employees expect us to behave properly.
Therefore, I would like to share with all of them our Code of Conduct, that establishes in a few words, the values with which REYMA-Reotix commits, as a supplier, client, employer and commercial partner.
We are convinced that integrity and rectitude are the basis of a sustainable and successful business activity, now and in the future, and I firmly believe that everyone will follow the principles and precepts that the code develops.
Hermann Diez del Sel Korsatko
CEO