Nowadays the use of monolithic solutions based on the application of refractory concretes as replacement of bricks and shaped blocks in the majority of furnaces and process lines of industries such as cement, steel, foundries, incineration, frits and ceramic enamels, aggregates, etc. is absolutely established and mature.
Equally important like the correct selection of the quality of the refractory concrete, which will essentially depend on working conditions (temperature, mechanical and abrasion requirements, chemical attack, thermal stress, contact with molten metals, etc.), is the selection of its right application system, which will depend, in addition to these factors, on others like mainly the work schedule and deadlines.
Within these two groups we find different systems of installation for refractory concretes:
1. APPLICATION BY VIBROCAST
The castable is mixed with water or bonding liquid inside a paddle mixer, preferably of planetary or vertical axis type.
Next the castable is poured in moulds or formworks (shutterings), helped to compact by internal or external vibrators, and will be demoulded (unshuttered) once set and hardened.
This is the installation system achieving the highest performance and longest lifetimes from refractory castables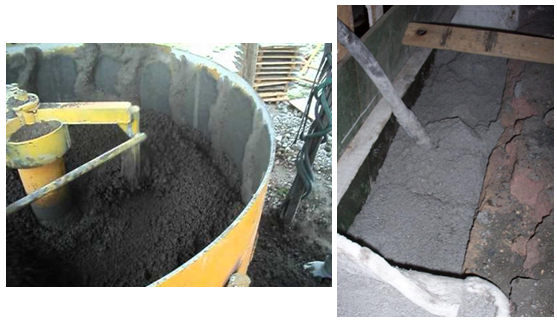 2. APPLICATION BY PUMPING
Variation from the former one where the concrete is mized and pushed by a pumping machine through hoses, and likewise compacts through vibration. Used when the area of application is located at height or its access is complicated.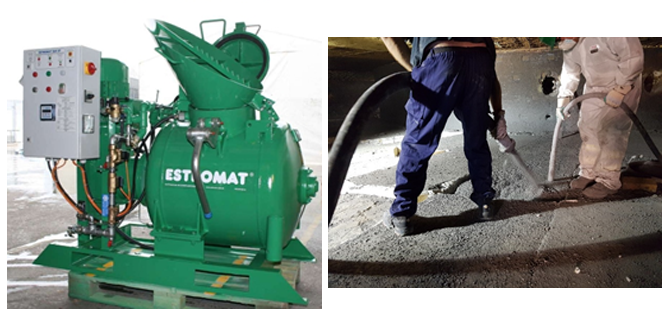 3. APPLICATION BY SELF-FLOW
System used when the geometry or refractory thicknesses do not allow the use of vibrators. In this case self-flowing (self-levelling) castables are used, which flow without the need of vibration.

4. APPLICATION BY DRY PROJECTION OR GUNNING
Projection system where the concrete is introduced in a gunning machine, and dry pumped through a hose, completing the mixing with water inside the gun.
Used to minimise working times, as no front formworks are needed, and for areas where mechanical properties required are not very high, in addition to economic benefit compared to the former aplications by casting.